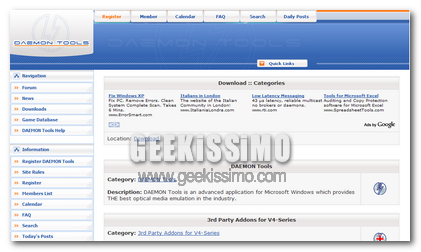 Daemon Tools
, è uno stimato ed ammirato software (gratuito), per la "gestione" e l'
emulazione di periferiche virtuali
, rendendo così possibile l'utilizzo di un file immagine direttamente, senza quindi essere masterizzato necessariamente.
Penso che la maggior parte di voi lettori lo conosca, ed oggi vi comunico la disponibilità della versione
4.12.3
, che va a sostituire la precedente; l'update è stato comunicato di recente, il 2 Aprile precisamente, e dal sito ufficiale, consigliano vivamente di aggiornarsi a quest'ultima release.
Osserveremo ora il ChangeLog e il post, presi entrambi dal sito del programma; per capire meglio i cambiamenti apportati che non sono sicuramente pochi.
The new version of DAEMON Tools Lite is available:
DAEMON Tools Lite Version 4.12.3
(included is SPTD version 1.56)

We recommend to upgrade to the latest version as usual.

What's new (compared to DT Lite 4.12.1 and 4.12.2):
– SPTD 1.56;
– Languages updates;
– Setup changes;
Bugs fixed:
– SCSI adapter resources problem during installation;
– Some network images mounting problem;
– Lockup problem when comparing files on 2 virtual drives;
– Some minor GUI bugs;
– Some incompatibility issues fixed (4.12.3)
Detto fatto, infatti, per quanto mi riguarda, appena ho saputo di questa news, sono corso ad aggiornare il mio Daemon Tools; e devo dire che alcuni bug da me riscontrati, sono del tutto scomparsi.
Mi complimento con gli sviluppatori e vi auguro una buona giornata.