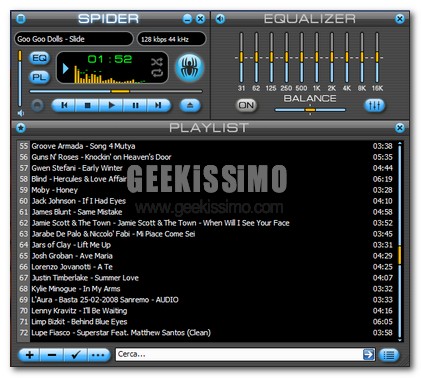 Tutti conosciamo l'ormai famoso
player audio Winamp
. Oggi voglio presentarvi, una validissima alternativa a Winamp.
SpiderPlayer
, questo è il nome del programma che oggi vi presento. Questo player è un software che mi ha colpito fin dall'inizio, grazie alla sua leggerezza e alla sua semplicità di utilizzo.
La sua veste grafica, molto curata ed accattivante, vi mette a disposizione tutti i comandi principali del player in pochissimo spazio. Il player, ha tra le sue caratteristiche anche quella di poter essere ridotto ad icona in SYSTray. In questo modo il player non occupa spazio sullo schermo, ma vi permette di ascoltare ancora della musica. Il software inoltre, permette l'ascolto anche delle principali Web-Radio con streaming MP3.
Ecco alcune caratteristiche principali del programma:
Cool Bass and Amazing Sound Quality (powered by Bass Audio Library from Un4seen developments)
Audio formats supported: MP1, MP2, MP3, MP4, M4A, MPC (MP , MPP), AAC, aacPlus, AC3, Ogg Vorbis, FLAC, Ogg FLAC, TTA, APE, WavPack, Speex, WAV, CDDA, WMA, MID, RMI, KAR, S3M, XM, MOD, IT, MO3, MTM, UMX.
Audio Converter – support for transcoding all supported audio formats
Full Unicode support
Powerful Tag Editors (ID3v1 & ID3v2 tags, Vorbis tags and WMA metadata)
CD Ripper (ripping to MP3, WMA, OGG or WAV)
CDDB support
Multilingual interface
CD-Text support
Internet Streaming (stream files from Internet and listen to Internet radio)
Sound Effects
Song Lyrics Editor
Skins support (with docking windows)
Customizable Icons for file associations (via icon libraries)
Built-in Visualizations (customizable spectrum analyzer and oscilloscope)
M3U and PLS playlists support
Convenient Searching through playlist
Ten-band Equalizer with Presets Editor
Fast and Small
Record MP3 and AAC+ Internet radio streams without loss of quality
Come dette prima, il programma è veramente ultra leggero. Esistono due versione del programma, una PRO (a pagamento) ed una gratuita. Inoltre è disponibile anche una versione portable.
Download | SpiderPlayer