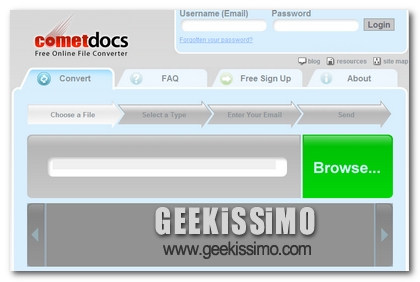 Tanti, tantissimi sono i tools di conversione passati sotto i nostri occhi, in questa sede esaminati e a voi riproposti. Purtroppo, non siamo ancora in grado di fornirvi uno strumento valido per qualsiasi tipo di conversione, ma ci adattiamo per segnalare con cadenza quasi quotidiana delle utilities sempre degne di nota.
Oggi è la volta di CometDocs, servizio online capace di effettuare conversioni tra oltre cinquanta formati differenti. E' possibile usufruire del sito semplicemente registrando un account (gratuito, naturalmente), o anche solo fornendo un indirizzo email al quale recapitare i prodotti di conversione.
Una lista completa dei formati è la seguente, presente nella sezione FAQs del sito stesso:
Convert from PDF:
(some conversion support OCR conversion for scanned PDF)
PDF to Open Office Writer format
PDF to Open Office Calc format
PDF to Open Office Impress format
PDF to image BMP
PDF to image JPG
PDF to image GIF
PDF to image PNG
PDF to image TIF
PDF to text
PDF to HTML
PDF to MS Word
PDF to MS Excel
PDF to AutoCAD (dwg)
PDF to AutoCAD (dxf)

Convert to PDF:
Bmp to PDF
Word (doc) to PDF
Gif to PDF
htm to PDF
html to PDF
jpeg to PDF
jpg to PDF
log to PDF
mht to PDF
mhtml to PDF
ODF to PDF
ODP to PDF
ODS to PDF
ODT to PDF
PNG to PDF
PPS to PDF
PPT to PDF
RTF to PDF
SDA to PDF
SDC to PDF
SDD to PDF
SDS to PDF
SDW to PDF
SXC to PDF
SXD to PDF
SXI to PDF
SXM to PDF
SXW to PDF
TIF to PDF
TIFF to PDF
TXT to PDF
WRI to PDF
XLS to PDF

Convert from XPS:
Convert to Open Office Writer format
Convert to Open Office Calc format
Convert to Open Office Impress format
Convert to image BMP
Convert to image JPG
Convert to image GIF
Convert to image PNG
Convert to image TIF
Convert to text
Convert to HTML
Convert to MS Word
Convert to MS Exsel

Other File Conversions:
Excel to CSV (XLSTOCSV)
XML to LINT (XMLLINT)
HTML to RSS (HTMLTORSS)
ASC TO PDB
ASC TO EBC
UNIX TO DOS
DOS TO UNIX
MAC TO UNIX
FIX TO DELIM
DELIM TO FIX
CSV TO DELIM
SORT FILE
PDF INFO
COMPARE FILES
MP3 INFO
FILEINFO
La conversione avviene in brevissimi tempi e, come scritto sopra, riversa i risultati dell'operazione in un messaggio inviato all'indirizzo mail fornito. Da provare, sicuramente.
A tutti voi una buona navigazione 😀 A presto!