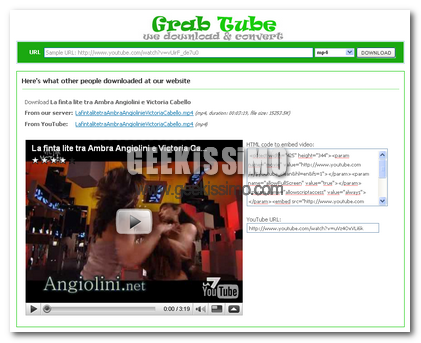 Youtube è il sito di video sharing per antonomasia, senza di lui i vari dailymotion e liveleak, forse, non sarebbero neanche nati. Beh, uno dei problemi di Youtube è che non permette il download dei video, inutile ricordavi che ormai sulla rete sono presenti decine e decine di siti che ci permettono di scaricare i video da Youtube, convertendoli anche. Beh, quello che vi presento oggi si aggiunge a questa lista di siti.
Grab Tube converter, oltre al download ci converte il video mentre lo scarica da Youtube nei formati che vogliamo noi. Possiamo anche convertirlo in formato MP3 per tenere solo la traccia Audio del video, nel caso dei video in HQ musicali. Ma non è finita qui, grazie al sito possiamo convertire anche un file video che abbiamo sul nostro pc, caricandolo sul server.
Ecco tutti i formati in cui possiamo convertire i video:
FLV to MP3
FLV to MP4
FLV to AVI
FLV to MPG
FLV to 3GP
MP4 to 3GP
MP4 to MP3
MP4 to FLV
MP4 to AVI
MP4 to MPG
3GP to MP3
3GP to MP4
3GP to FLV
3GP to AVI
3GP to MPG
AVI to MP3
AVI to MP4
AVI to FLV
AVI to 3GP
AVI to MPG
Beh, che dire, un ottimo servizio di conversione online ci voleva. Dopo media-converter questo è sicuramente il migliore. Se ne conoscete altri, perché non ce li segnalate nei commenti?