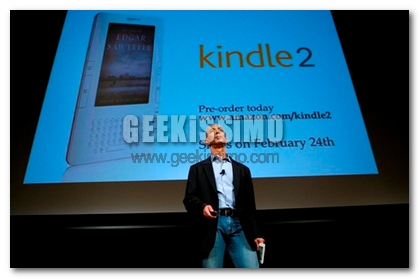 Vi ricordate della cancellazione improvvisa di due volumi (George Orwell's 1984 e Animal Farm) da tutti i Kindle in circolazione, di cui vi abbiamo parlato qualche giorno fa? Questa azione è stata compiuta da Amazon per sopperire ad un ripensamento improvviso dell'editore dei due libri in questione, ma restava comunque un gesto che ha fatto indignare molti utenti, i quali si sono visti cancellare volumi regolarmente acquistati.
Nelle ultime ore sono arrivati chiarimenti ufficiali dai piani alti della società di Jeff Bezos, chiarimenti che hanno confermato la teoria più accreditata sull'accaduto: problemi dovuti alle decisioni dell'editore dei due volumi. In seguito, lo stesso Bezos si è scusato personalmente con i suoi utenti, rilasciando una dichiarazione ufficiale sul Forum di Amazon:
This is an apology for the way we previously handled illegally sold copies of 1984 and other novels on Kindle. Our "solution" to the problem was stupid, thoughtless, and painfully out of line with our principles. It is wholly self-inflicted, and we deserve the criticism we've received. We will use the scar tissue from this painful mistake to help make better decisions going forward, ones that match our mission.

With deep apology to our customers,

Jeff Bezos
Founder & CEO
Amazon.com
Un'ammissione di colpa in piena regola, ma che dimostra la maturità e la voglia di migliorare che contraddistinguono Amazon e i suoi innovativi prodotti tecnologici. Che dite, scuse accettate?