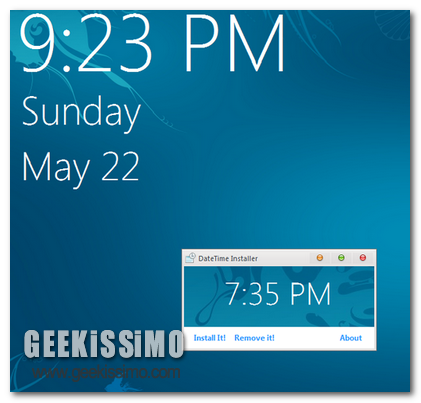 Negli ultimi tempi, qui su Geekissimo, abbiamo avuto modo di scoprire molte delle caratteristiche che andranno a contraddistinguere Windows 8, il prossimo OS di casa Microsoft che verrà commercializzato a partire dall'anno successivo.
Tra le tante ed interessanti nuove features che attendono coloro che hanno intenzione di testare le fattezze del futuro sistema operativo fa la sua comparsa anche una logon screen decisamente rinnovata ispirata in tutto e per tutto all'interfaccia Metro e comprensiva, tra le altre cose, di un orologio e di un calendario posti in bella vista.
Qualora foste interessanti a tale feature e nel caso in cui l'OS in uso sia Seven non sarà necessario attendere oltre per testarne la visualizzazione grazie all'utilizzo di un nuovo applicativo: 8 Clock and Date for Windows 7.
Il programmino in questione è completamente gratuito e di natura portatile e, una volta in uso, consentirà di ottenere esattamente quanto precedentemente accennato, così com'è anche possibile notare dando un'occhiata all'immagine illustrativa.
Utilizzare 8 Clock and Date for Windows 7 è molto facile poiché, dopo averlo scaricato, sarà sufficiente estrarre i file dalla cartella compressa, eseguire il file Windows 7 ClockDate Installer e, dalla finestra visualizzata, cliccare poi sulla voce Install It!.
A questo punto sarà sufficiente riavviare il sistema in modo tale da poter visualizzare le modifiche apportate alla logon screen.
Da notare che l'applicativo è destinato all'utilizzo esclusivo su Windows 7 risultando perfettamente compatibile con sistemi a 32-bit mentre, invece, nel caso di quelli a 64-bit sarà necessario sostituire manualmente il file Ultiman.exe (è consigliabile effettuare un backup del file originale!) con quello contenuto nella cartella dell'applicativo.
Download | 8 Clock and Date for Windows 7