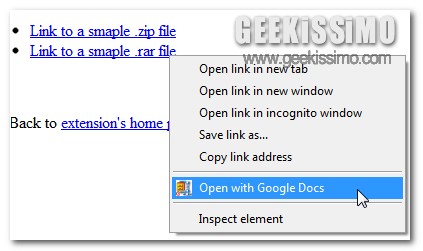 Chi, tra voi lettori di Geekissimo, utilizza Google Docs avrà senz'altro avuto modo di notarlo: non molto tempo addietro è stata implementata una nuova feature grazie alla quale visualizzare i file ZIP e RAR, il tutto senza dover eseguire alcuna installazione di software appositi sulla postazione multimediale in uso.
Tale funzionalità, di per sé già molto comoda, potrebbe però divenirlo ancor di più ricorrendo all'impiego di un'interessante risorsa extra tutta dedicata agli utilizzatori di Google Docs e a coloro che navigano in rete servendosi di Chrome.
La risorsa in questione è Open ZIP and RAR With Gdocs, ovvero un'estensione gratuita che, una volta installata, permetterà, nello specifico, di aprire rapidamente un file ZIP o un file RAR caricato online direttamente in Google Docs.
Per poter eseguire quanto appena accennato sarà sufficiente cliccare con il tasto destro del mouse su di un qualsiasi collegamento ad un archivio compresso disponibile online e, dal menu contestuale visualizzato, scegliere poi la voce Open with Google Docs, così come illustrato anche nello screenshot d'esempio.
Il file, a questo punto, sarà quindi aperto in Google Docs.
L'utente potrà quindi visionare tutti gli elementi presenti nell'archivio, le tipologie di file ad esso annesse e le loro dimensioni prima di eseguire il download sulla postazione multimediale in uso, senza contare poi che sarà anche possibile salvare i singoli file direttamente in Google Docs.
Open ZIP and RAR With GDocs non richiede alcun processo di configurazione da parte dell'utente per cui, dopo il processo di installazione, risulterà immediatamente utilizzabile.
Download | Open ZIP and RAR With GDocs