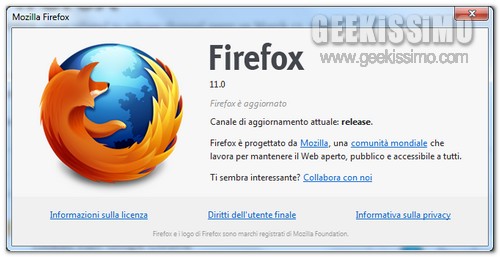 Firefox si aggiorna nuovamente, e stavolta si tratta di una release veramente corposa. Oltre alla correzione di diversi bug e falle di sicurezza, la versione finale di Firefox 11 propone infatti due nuove feature che gli utenti attendevano da tempo.
Ci riferiamo alla possibilità di sincronizzare le estensioni fra più computer attraverso Firefox Sync e al supporto a Chrome per l'importazione di segnalibri, cronologia e cookie. La prima funzione è attivabile su decisione dell'utente dal menu "Firefox > Opzioni > Sync", mentre la seconda la si può trovare nel menu "Firefox > Segnalibri > Importa e salva > Importa dati da un altro browser".
Firefox 11 mette una pezza anche alla recentissima vulnerabilità use-after-free scoperta al Pwn2Own 2012 dai ricercatori Willem Pinckaers e Vincenzo Iozzo, i quali sono riusciti a bucare il browser di Mozilla superando le protezioni DEP ed ALSR di Windows 7. A fargli buona compagnia, Chrome ed Internet Explorer, entrambi usciti con le ossa rotte dalla hack competition di Vancouver.
Il resto delle novità presenti nel changelog di Firefox 11 sono altresì degne di nota. Ve le riportiamo di seguito in versione integrale, sono in inglese ma abbastanza comprensibili un po' per tutti.
NEW – Firefox can now migrate your bookmarks, history, and cookies from Google Chrome
NEW – With Sync enabled, add-ons can now be synchronized across your computers
NEW – The CSS text-size-adjust property is now supported
CHANGED – Redesigned media controls for HTML5 video
HTML5 – The outerHTML property is now supported on HTML elements
HTML5 – View source syntax highlighting now uses the HTML5 parser (see bug 482921)
DEVELOPER – The Style Editor for CSS editing is now available to web developers
DEVELOPER – Web developers can now visualize a web page in 3D using the Page Inspector 3D View
DEVELOPER – SPDY protocol support for faster page loads is now testable
DEVELOPER – XMLHttpRequest now supports HTML parsing
DEVELOPER – Files can now be stored in IndexedDB (see bug 661877)
DEVELOPER – Websockets has now been unprefixed
FIXED – Various security fixes
FIXED – Firefox notifications may not work properly with Growl 1.3 or later (691662)
Firefox 11 è stato rilasciato ufficialmente da Mozilla (dopo il falso allarme circolato in Rete un paio di giorni fa), quindi potete installarlo sul vostro PC semplicemente avviando la procedura di aggiornamento del browser dal menu "Firefox > Aiuto > Informazioni su Firefox" oppure scaricando il pacchetto del setup da getfirefox.com.