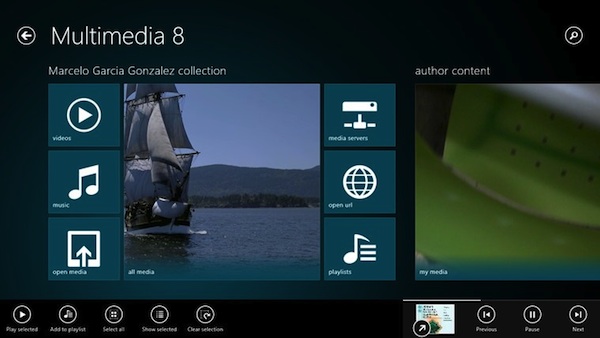 Oggi torniamo ad occuparci di programmi per Windows 8 parlandovi di Multimedia 8, una Windows Store App multimediale che permette di riprodurre video, gestire playlist e convertire vari formati di file multimediali in maniera molto semplice. Probabilmente non siamo di fronte ad un software must-have ma nell'ambito delle applicazioni Metro prodotte da terze parti si tratta sicuramente di un prodotto valido, superiore all'attuale media.
Una volta installata ed avviata, Multimedia 8 permette di selezionare la cartella con i video di Windows 8 e di sfogliare tutti i filmati presenti in essa. Ciò non toglie che è possibile navigare anche in altre directory e riprodurre altri file multimediali (compresi quelli 3D). Ciascun video riprodotto può essere convertito nei formati WMV ed MP4 in svariate risoluzioni, comprese quelle HD.
È supportata anche la riproduzione di video da media server, smartphone con Windows Phone ed altri dispositivi multimediali, ma con Multimedia 8 è possibile anche creare contenuti multimediali. Si possono registrare video con la webcam e registrazioni audio con il microfono.
Questo il set completo delle feature presenti nell'applicazione, così potete farvi meglio un'idea di quello che riesce ad offrire:
* Play media from your libraries and Media Servers
* SRT and WebVTT subtitles
* 3D video
* Multilanguage media
* Create, manage and shuffle playlists
* Convert and trim media to MP4 and WMV
* PlayTo your DLNA TV
* PlayTo from other devices, such as Windows Phone, to Multimedia 8
* Search your libraries and Media Servers
* Video Stabilization
* Capture audio and video
Multimedia 8 può essere scaricato gratuitamente dal Windows Store di Windows 8. Se vi interessa, vi lasciamo con il link per il download e al sito ufficiale dell'applicazione.
DOWNLOAD | Multimedia 8 | Sito ufficiale
[via]