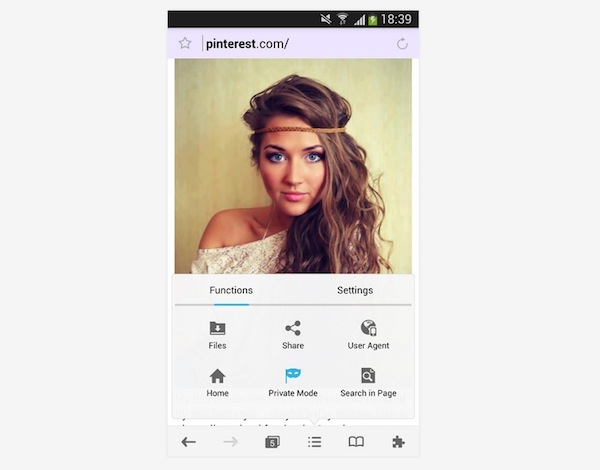 Dopo Safari e Chrome, uno dei browser più popolari per iOS è Mercury Browser che include molte di quelle funzioni a cui noi geek difficilmente rinunciamo: blocco delle pubblicità, personalizzazione dell'user agent, integrazione con servizi di terze parti (come Dropbox) e molto altro ancora. Il tutto racchiuso in un'interfaccia utente abbastanza gradevole alla vista e facilmente utilizzabile anche da chi geek non è.
Ebbene, dopo tanta attesa, Mercury Browser è arrivato anche su Android per offrire agli utenti del robottino verde lo stesso set di feature che fino a questo momento era ad esclusivo appannaggio di chi usa iPhone e iPad. Fra queste, anche la modalità di navigazione in incognito, la ricerca all'interno delle pagine e tantissimo altro.
Per chi non avesse mai avuto a che fare con questa ottima app, ecco la lista completa delle caratteristiche tratta dal Google Play Store:
Plugins – Useful Reader, Translate, Dropbox, Ad block help you surfing the internet with comfort.
User Agent – By changing User Agent, Mercury browser can spoof website's severs to provide you desktop-style webpages.
Private Mode – Enable Private Mode will stop Mercury from recording your browsing history and cookies.
One-tap history and cookies clear – Prevent you from being spied personal privacy.
Login Passcode – Keep others from using your Mercury Browser.
Large window for tab preview – Let you have a clear view of open tabs.
12 Search engines – You can choose a powerful search engine as you like.
Search in Page – Search in Page will highlight words you are searching in current page.
Gesture control – Make order by moving fingers on the screen save many switching troubles.
Various share methods – SMS, Mail, Blue tooth, SNS and cloud storage are supported. You can share files with your friends without limitation.
Import/Export bookmarks – You can import/export html bookmark files to sync bookmarks between devices.
Brightness Control – You can manually change brightness or leave this matter to Mercury's smart Auto-Brightness.
Day/Night mode – Protect your eyes by switching to specific mode in different environment.
Many other fabulous functions wait for your try!
Mercury Browser per Android è scaricabile gratuitamente dal Google Play Store ed è ottimizzato sia per smartphone che per tablet. Provatelo e fateci sapere cosa ne pensate.
[Mercury Browser for Android via Lifehacker Australia]