Il menu Start di Windows 10 è stato progettato in maniera davvero egregia: è la perfetta via di mezzo fra la Start Screen di Windows 8 – la tanto vituperata Start Screen di Windows 8 – e il menu Start delle edizioni precedenti di Windows.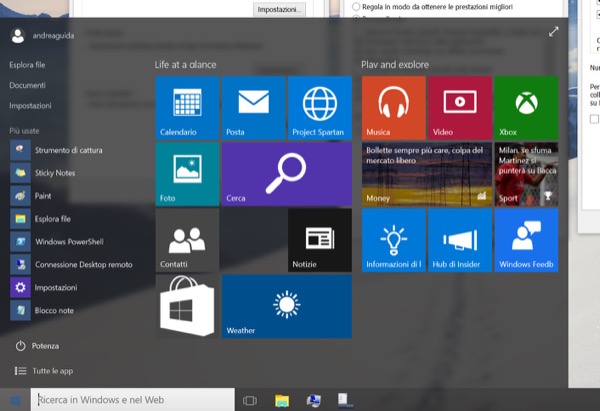 L'unico difetto che possiamo trovargli, almeno in queste Insider Preview del sistema operativo e almeno in determinate circostanze, è una certa lentezza nell'aprirsi. Capita infatti che fra il click sul pulsante Start e l'effettiva comparsa del menu passi qualche millisecondo di troppo, e questo, credeteci, da' un fastidio enorme.
Eccoci quindi qui, pronti a darvi un tris di suggerimenti grazie ai quali potrete velocizzare il menu Start di Windows 10 fino a rendere la sua comparsa pressoché istantanea. Noi li abbiamo testati con successo, speriamo valga la stessa cosa anche per voi.
Disattivare i suggerimenti – il menu Start di Windows 10 include dei "suggerimenti" relativi a contenuti e app da scaricare dal Windows Store, delle pubblicità insomma. La loro visualizzazione può influire sui tempi di apertura del menu, quindi ecco come disattivarli.

Fare click destro sulla barra delle applicazioni e selezionare la voce Proprietà dal menu contestuale;
Selezionare la scheda Menu Start;
Togliere la spunta dall'opzione Occasionally show app and content suggestions in the Start menu;
Cliccare su OK.

Disattivare le animazioni – per rendere la comparsa del menu Start davvero veloce, istantanea diremmo, bisogna disattivare le animazioni di quest'ultimo. Purtroppo però le animazioni del menu Start sono collegate a quelle di altri elementi della UI, come ad esempio le finestre. Questo cosa significa: che disattivando gli effetti di transizione del menu Start si perdono anche le animazioni in apertura e in chiusura delle finestre.

Per disattivare le animazioni del menu Start (e delle finestre) occorre recarsi nelle proprietà di sistema. Occorre quindi cercare "sistema" nella barra delle applicazioni e cliccare sull'icona Sistema – Pannello di controllo che compare in Start;
Successivamente bisogna cliccare sulla voce Impostazioni di sistema avanzate (nella sidebar laterale), selezionare la scheda Avanzate e cliccare sul pulsante Impostazioni relativo alle Prestazioni;
Infine occorre togliere la spunta dalle opzioni Anima le finestre quando vengono ingrandite o ridotte ad icona (per disattivare le animazioni in apertura del menu Start) e Controlli ed elementi animati nelle finestre (per disattivare le animazioni alla comparsa dei live time nel menu Start), cliccare su OK e il gioco è fatto.

Disattivare le trasparenze – se si utilizza un computer particolarmente datato che soddisfa a malapena i requisiti minimi di Windows 10, potrebbe essere una buona idea disattivare gli effetti di trasparenza del menu Start. Ecco come si fa.

Fare click destro sul desktop e selezionare la voce Personalizza dal menu contestuale;
Selezionare la voce Colori dalla sidebar laterale (nella finestra che si apre);
Spostare su Disattivato lo switch dell'opzione Rendere trasparente menu Start.