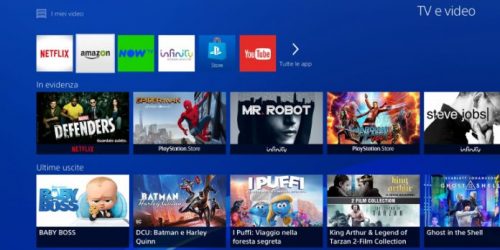 Si sta muovendo qualcosa per chi è in possesso di una PlayStation 4 e PlayStation 3. Di recente, infatti, è giunto l'annuncio ufficiale con cui si è parlato del lancio dell'app Amazon Prime Video, destinata ad arricchire in modo significativo l'esperienza di utilizzo delle due console.
In cosa consiste questa importante novità concepita per chi dispone di una console Sony PlayStation 4 e PlayStation 3? La risposta ci arriva attraverso una nota ufficiale, utile a farci capire di cosa stiamo parlando effettivamente:
"I giocatori possono scaricare l'app Amazon Prime Video e accedervi dalla sezione TV e Video di PlayStation 4 (PS4) e Servizi TV/Video di PlayStation 3 (PS3) per godere dello streaming di famose serie originali Amazon come: The Tick, The Grand Tour, The Man in the High Castle, Transparent, Mozart in the Jungle, American Gods e Goliath (oltre a una ricca selezione di serie TV e film). Con circa mezzo miliardo di ore di video viste dagli spettatori dei territori SIEE ogni mese, Amazon Prime Video offre ai giocatori una scelta di intrattenimento aggiuntiva su PS4 e PS3".
Insomma, non resta che accendere le console Sony PlayStation 4 e PlayStation 3 e godersi questa novità attesa da diverso tempo, viste le caratteristiche di un'app come Amazon Prime Video. Che ve ne pare?