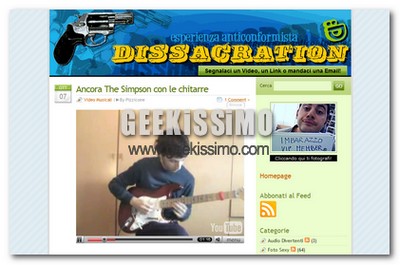 Lo so, è davvero duro il rientro nella noiosa routine quotidiana dopo il weekend di riposo. Ci vorrebbe qualcosa per tirarvi un pò su il morale, qualcosa di veramente spassoso… che ne dite di ben 40 siti pieni zeppi di immagini, video, barzellette, audio, indovinelli, cartoline, scherzi e tanto altro capace di far "scompisciare" dalle risate anche il più musone dei vostri amici?
Basta chiedere, ed ecco che Geekissimo vi regala anche questa bella mega-lista. Ve la siete davvero meritata per l'affetto con il quale ci seguite quotidianamente:
Dissacration – Il mitico sito di Pizzicone dove ogni giorno trovare decine di video divertentissimi (ma non solo).
Funny.com – Scherzi, news, video ed immagini divertenti.
Very Funny Ads – Le pubblicità più divertenti della storia.
FunnyJunk.com – Video, immagini e giochi divertenti.
JibJab – Video divertenti da tutto il mondo.
MetaCafe – Ogni tipo di video divertente e/o curioso pubblicato dagli utenti.
Funny.co.uk – Umorismo all'inglese.
College Humor – Video e foto per divertirsi un pò.
JakesJokes – Sito con oltre 31,000 immagini, video e tanto altro per divertirsi alla grande.
FunnyHub – Divertenti video, animazioni, scherzi, barzellette e giochi per sfuggire alla noiosa routine quotidiana.
Funny or Die – Tutte le cose divertenti riguardo i personaggi famosi.
ViralX.com – Video e pubblicità divertenti da tutto il mondo, aggiornato quotidianamente.
Short Funny Quotes – Cose divertenti giudicate dagli utenti.
BastardiDentro – Immagini, video ed audio divertenti, test strampalati, barzellette e tanto altro (in italiano).
DailyMotion – Dozzine di video divertenti e/o stupidi pubblicati dagli utenti.
Funny Times – Quotidiano di cartoni animati e divertimento.
FunnyPostCard – Grande archivio di cartoline, screensaver e foto divertenti (in particolare quelle sui cani).
Daily HaHa – Foto e video divertenti.
Ebaum's World – News, video, immagini, ed audio divertenti.
AllFunnyStuff.com – Cartoni animati, video divertenti e tanto altro.
Funatico – Video ed audio divertentissimi che, vi terranno incollati al computer per un bel po di tempo.
Jokes2Go.com – Barzellette.
FunnyBurger.com – Oltre 4000 video, immagini, animazioni e giochi divertenti per tutti i gusti.
Riddles.com – Indovinelli e test per divertire il cervello.
The Funny Name Server – Tutti i nomi più strani e divertenti presenti sugli elenchi telefonici.
Funny-ecards.com – Divertenti cartoline virtuali da spedire ad amici e parenti.
Very Funny Pics – Immagini divertenti e cartoni animati. Ognuno può contribuire pubblicando qualcosa.
Funny and Jokes – Barzellette ed indovinelli.
Giggle Poetry – Poesie e giochi divertenti.
AmusingQuotes.com – Citazioni famose e divertenti.
HumorSphere.com – Immagini divertenti e barzellette per tutti.
AhaJokes.com – Immagini ed audio divertentissimi, ben suddivisi in categorie.
Jokes Unlimited – Immagini divertenti, barzellette ed altro.
I CAN HAS CHEEZBURGER? – Centinaia di foto divertenti riguardanti i gatti.
Magnaromagna – Notizie, test, video, cartoline e curiosità divertenti (in italiano).
Googly Foogly – Video ed immagini divertenti.
DumbJerks – Giochi, immagini, video ed animazioni divertenti.
StupidVideos.com – Video divertenti… e stupidi!
Videos Only – Video curiosi e/o divertenti.
Super Deluxe – Video divertentissimi per tutti!
Fonte parziale: Mashable