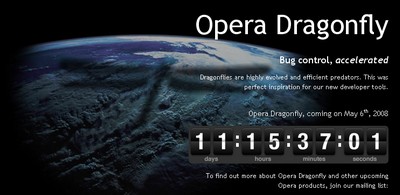 Il team di sviluppatori di Opera ha finalmente deciso di dissolvere l'alone di mistero che in questi ultimi tempi aveva circondato l'azienda e ha spiegato tramite un Email cosa sarà
Dragonfly
.
In poche parole si tratta di uno strumento indirizzato ai Web Developers grazie al quale essi potranno
eseguire il debug su siti web e applicazioni direttamente dal browser Opera.
Non trapelano ulteriori dettagli circa le funzioni che saranno implementate, ma le aspettative sono elevate.
La prima alpha di questo progetto sarò lanciata a breve, il 6 maggio 2008.
Se il progetto dovesse funzionare e adempiere tutti i compiti che si è prefissato allora sarà sicuramente una rivoluzione ed un grosso aiuto per gli sviluppatori Web, ma prima di una prova "sul campo" non si possono certamente esprimere giudizi affrettati.
Lo scopo di questa prima release è soprattutto la raccolta di opinioni da parte della comunità internazionale di sviluppatori per introdurre, nelle versioni successive, tutto ciò che secondo il loro parere è mancante oppure non funzionante così da rilasciare una versione definitiva stabile, efficiente e funzionante al 100%
Ecco il testo dell'email:
The Dragonfly Is About To Land

But there was something missing. Opera has—until now—lacked one important piece of the jigsaw, but this missing piece is being added as you read. We are proud to announce Opera's all-new developer tool — Opera Dragonfly. With Opera Dragonfly's alpha release on the 6th of May, 2008, developers will have an array of new tools to debug Web sites and applications from within the Opera Browser.

Opera Dragonfly's alpha release is still under active development as it matures to become ready for beta and final releases. We want your feedback and feature requests for the initial alpha release to make sure it fits your needs and makes your work easier. Over the coming months and years, we will continually develop Opera Dragonfly to realize our vision of first-class developer tools, and add even further functionality to the product. The alpha release is a first snapshot and foundation for that vision.

Opera Dragonfly will be available on the 6th of May at .