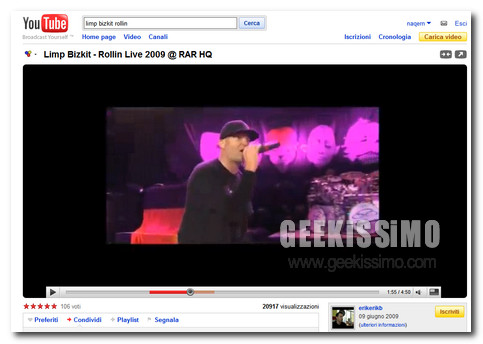 Come ribadito anche in occasione di un nostro recentissimo post,
scaricare video da youtube
è un'attività che (quasi) tutti noi compiamo quotidianamente. Nessuno può resistere di fronte ad una gag de 'i Griffin', ad un video particolarmente divertente o al finale del proprio film preferito. Ma con i video musicali come la mettiamo?
Non sarebbe meglio averli sotto forma di file audio, anziché di scomodi video da visualizzare in player spesso diversi da quelli che usiamo per la nostra collezione musicale? Certo che sì. Eccoci allora pronti a proporvi una carrellata con i migliori strumenti –
dai software alle estensioni per i browser, passando per i segnalibri ai servizi online
– per
scaricare mp3 da youtube
in pochissimi click. Non vi resta che scegliere il vostro preferito e iniziare a fare incetta di buona musica (
nei limiti del consentito, ovviamente
).
Kick YouTube: ottimo servizio online grazie al quale è possibile scaricare mp3 da youtube (nonché effettuare il download dei video in tanti altri formati). Funziona anche aggiungendo semplicemente il prefisso "kick" prima di "youtube" nell'URL del video che si desidera scaricare.
YouTube To MP3: estensione per Firefox essenziale quanto efficace. Aggiunge la dicitura "download as MP3" alle pagine di YouTube, consentendo all'utente di scaricare mp3 da youtube in molteplici qualità con un semplice click.

YouTube Video and audio Downloader: fenomenale userscript, funzionante su tutti i maggiori browser (su Firefox occorre installare Greasemonkey, su IE occorre installare IE7Pro, ecc.), che permette di effettuare lo scaricamento dei filmati da YouTube nei formati FLV, MP4, 3GP e, appunto, MP3.
Free YouTube to MP3 Converter: praticissimo programma gratuito per Windows, è facilmente utilizzabile da chiunque grazie alla sua interfaccia utente chiara ed essenziale. Permette di scaricare mp3 da youtube in una manciata di click.
Easy Youtube Video Downloader: fantastico componente aggiuntivo per Google Chrome, che consente di effettuare il download di video di youtube in svariati formati, compreso quello audio MP3.
ZamZar: completissimo servizio online gratuito che consente di convertire qualsiasi tipo di documento in qualsiasi altro tipo di documento. Tra le altre cose, tramite la scheda "Download videos", permette di scaricare mp3 da youtube.
Dirpy: bookmarlet che, una volta salvato nella barra dei segnalibri del proprio browser, permette di scaricare mp3 da youtube con un semplice click.