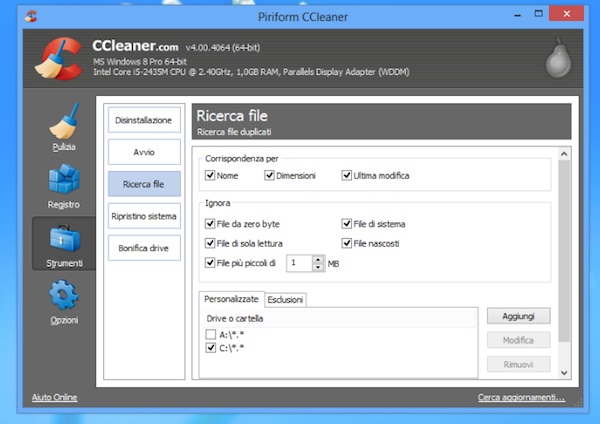 Nuova major release per CCleaner. La popolarissima applicazione gratuita per la manutenzione e la pulizia del PC giunge alla versione 4.0 ed aggiunge alla sua già nutrita serie di funzioni un altro paio di feature estremamente interessanti: la rimozione dei file doppioni e il monitoraggio del sistema in tempo reale (purtroppo destinata solo alla versione pro del software).


La rimozione dei file doppioni, come facilmente intuibile, controlla la presenza di file identici fra loro sull'hard disk del computer e fa scegliere all'utente quali eliminare.
La funzione di monitoraggio del sistema consente invece di impostare CCleaner in modo che entri in azione quando si chiude un browser o quando è possibile liberare spazio su disco cancellando i file temporanei.
Da segnalare anche un generale restyling grafico con annesso cambiamento di icona, il miglioramento della funzionalità di wiping e l'aggiunta del supporto a vari software, come le versioni più recenti di Avast e Photoshop. Di seguito, trovate il changelog completo con tutte le novità.
New improved graphics and icon.
Improved internal architecture for better performance.
New Duplicate File Finder tool.
New System and Browser Monitoring (Pro Version).
Optimized and improved Registry Cleaning.
Added cleaning for Avast Antivirus 8, Adobe Photoshop CS6, Samsung Kies and Real Player 16.
Improved Drive Wiper performance.
Optimized Startup item detection algorithm.
Optimized 64-bit builds on Windows 7 and 8.
Many performance improvements and bug fixes.
CCleaner 4 è disponibile gratuitamente per il download dal link che trovate qui sotto. Naturalmente è anche in italiano ed è disponibile anche in versione portable, che non necessità di installazioni per essere usata.
DOWNLOAD | CCleaner 4