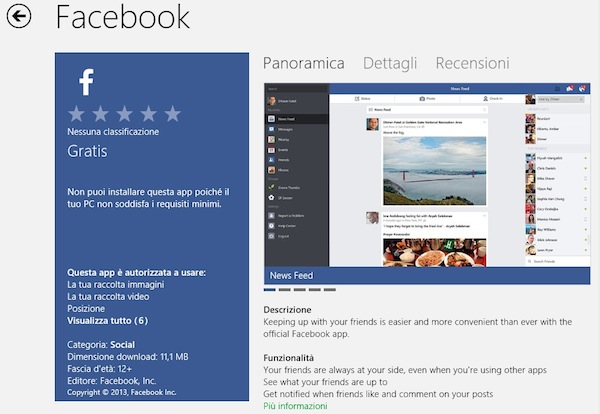 Fra le novità portate sui nostri computer da Windows 8.1, dobbiamo registrare anche il lancio della tanto attesa app ufficiale di Facebook per l'ambiente Modern. Cos'ha di speciale rispetto ai client di terze parti presenti fino ad oggi sul Windows Store? Assolutamente nulla. Come qualsiasi app dedicata a Facebook, permette di visualizzare le notizie postate dai propri amici, postare aggiornamenti di stato, foto e chattare. Ma è ufficiale, finalmente!
L'applicazione supporta la ricerca rapida dalla Charms bar e la condivisione dei contenuti, in modo tale da inviare foto e altri contenuti dal social network alla posta elettronica. È supportato il ridimensionamento della app a metà schermo ma non quello a un terzo.
Facebook per Windows 8.1 è, per l'appunto, un'applicazione disegnata per Windows 8.1. Questo significa che è possibile trovarla sul Windows Store da Windows 8 ma non installarla. Provando a farlo, si va incontro al messaggio di errore: "Sorry, this app can't be installed because your PC doesn't meet the minimum system requirements".
In calce al post trovate il link diretto a Facebook sul Windows Store, ma è probabile che non funzioni ancora per tutti. Per trovare l'applicazione, fate quindi così:
Aprite il Windows Store;
Cercate Facebook inc all'interno di quest'ultimo;
Selezionate l'icona di Facebook dai risultati della ricerca (dovrebbe essere la prima app in elenco).
Questo è l'elenco ufficiale delle feature incluse nell'applicazione in base alla descrizione presente sul Windows Store:
See what your friends are up to
Get notified when friends like and comment on your posts
Get updates on your Start screen
Share updates and photos
Chat and have group conversations
LINK | Facebook per Windows 8.1