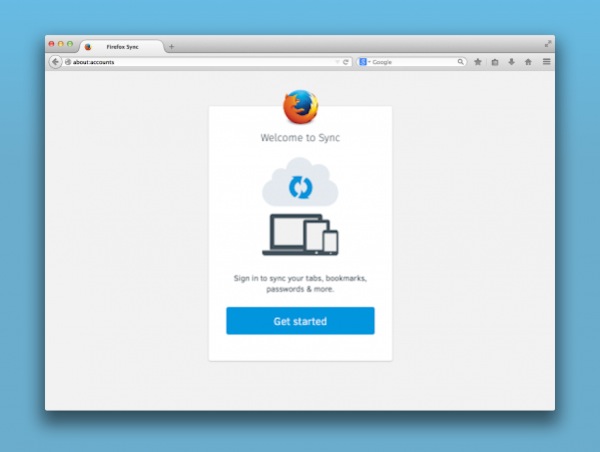 Mozilla ha rilasciato la build 29.0a2 di Firefox nel canale Aurora (quello dedicato alle alpha), una versione che porta con sé un bel po' di novità, prima fra tutte la nuova interfaccia Australis ispirata alla grafica di Google Chrome con schede arrotondate e menu all-in-one nell'angolo alto a destra.
Altra caratteristica di Australis è il suo alto grado di personalizzazione: menu e barra degli strumenti possono essere modificati facilmente con un semplice drag-and-drop delle icone. Anche le icone dei componenti aggiuntivi possono essere spostate con il mouse.
Sul lato funzionale, il nuovo Firefox Aurora introduce i Firefox account che possono essere utilizzati per sincronizzare i dati di navigazione fra più computer e dispositivi, compresi Firefox su Android e gli smartphone con Firefox OS. Questo è il changelog completo:
NEW – A set of new improvements to the Firefox user interface (learn more)
NEW – An interactive onboarding tour to guide users through new changes
NEW – A redesigned and improved customization mode
NEW – The ability to set up Firefox Sync by creating a Firefox account (learn more)
CHANGED – navigator.plugins is no longer enumerable, for user privacy
DEVELOPER – Promises enabled by default
DEVELOPER – Add-on bar has been removed, content moved to navigation bar
DEVELOPER – Enabled ECMAScript Internationalization API
DEVELOPER – Console object available in Web Workers
DEVELOPER – 'box-sizing' (dropping the -moz- prefix) implemented
DEVELOPER – SharedWorker enabled by default
DEVELOPER – CSS3 variables implemented
DEVELOPER – < input type=number > enabled
Come anticipato nelle scorse settimane, c'è anche un apposito wizard che guida l'utente nelle parti principali della nuova interfaccia. Se vi va, potete sperimentarlo in prima persona usando il link qui sotto.
DOWNLOAD | Firefox 29.0a2 per Windows, OS X e Linux