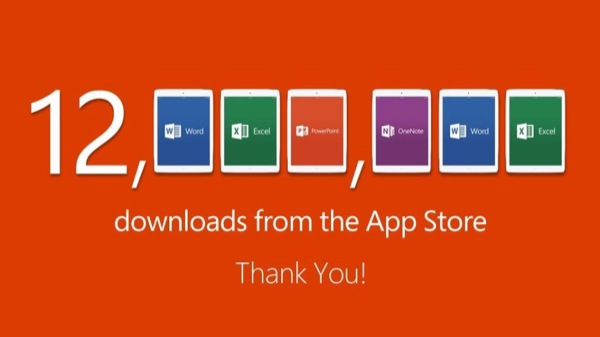 Il debutto di Office su iPad è stato un successo, adesso possiamo dirlo. Il modello freemium scelto da Microsoft per le nuove app di Word, Excel e PowerPoint, le quali possono essere scaricate gratuitamente, consentono di visualizzare qualsiasi file senza limiti ma richiedono una sottoscrizione a Office 365 per l'editing e la creazione di nuovi documenti, è stato indubbiamente un rischio ma i numeri stanno dando ragione a Nadella e soci.
Giusto ieri, infatti, l'account ufficiale di Office su Twitter ha ufficializzato il superamento dei 12 milioni di download per le applicazioni di Word, Excel, PowerPoint e OneNote (che era disponibile già da prima) su iPad.
More than 12 million downloads of Word, Excel, PPT & OneNote for #iPad from the @AppStore <3 #OfficeforiPad pic.twitter.com/iT2egNPDkj

— Office (@Office) 3 Aprile 2014
Di questi 12 milioni di copie non sappiamo esattamente quante se ne siano trasformate in abbonamenti a Office 365. Ad ogni modo, anche se si trattasse di una piccola percentuale, il guadagno per Microsoft sarebbe cospicuo.
Ricordiamo, infatti, che una sottoscrizione annuale ad Office 365 costa 99 euro (di cui il 30% va Apple se attivata tramite acquisto in-app) e che per impostazione predefinita c'è attivato il rinnovo automatico della stessa.
Nell'App Store italiano, Word, Excel e PowerPoint sono tutte e tre nella top 10 delle applicazioni gratuite. Nella classifica delle app più redditizie, Word figura al 16° posto ed Excel al 36°.
[Neowin]