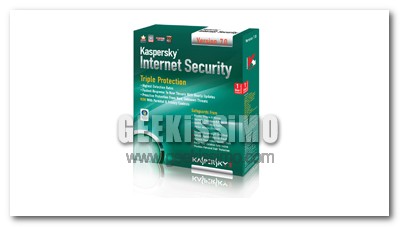 Quasi incredibile ma vero, oggi siamo qui a segnalarvi una nuova, imperdibile promozione messa in piedi da casa Kaspersky, in grado di farci ottenere in men che non si dica una licenza per Kaspersky Internet Security 2009 gratis per un anno!
Questo ottimo pacchetto per la sicurezza, sempre ben posizionato nelle classifiche internazionali, si distingue per la bontà dell'antivirus associata a quella del firewall e della protezione verso altre forme di minacce informatiche (spyware, phishing, spam ecc.).
Insomma, si tratta di un vero gioiellino da non lasciarsi scappare nel modo più assoluto, quindi ecco come procedere passo passo per ottenere Kaspersky Internet Security 2009 gratis per un anno:
Andare in questa pagina;
Cliccare su "Kaspersky Barclays offer page";
Compilare il modulo (nel campo "Online Banking membership number" inserire 201056789112, o qualsiasi altro numero composto da 12 cifre che inizi con 2010)
Cliccare su Next;
Aprire la propria casella di posta elettronica e la mail di Kaspersky che ha come oggetto "Register with Kaspersky";
Cliccare sul link;
Cliccare su Next;
Scaricare il software dalla pagina comparsa (cliccando su "download the software");
Installare e registrare con il codice ottenuto da Kaspersky (in una mail che ha come oggetto "Your Kaspersky Activation Code and download instructions") il software.
Ricordandovi infine che la licenza è applicabile a 3 diversi PC, non possiamo che invitarvi ancora una volta ad affrettarvi, in quanto non sappiamo ancora fino a quando questa strepitosa promozione per avere Kaspersky Internet Security 2009 gratis per un anno durerà. Buon download a tutti!
Via | Raymond.CC Blog