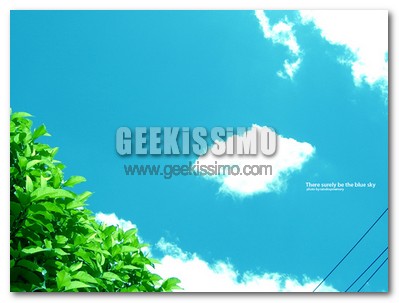 Il terribile quanto afoso caldo di questi giorni ha "vanificato" la recente ufficialità data dal calendario: è estate, forse anche troppo, ed è decisamente giunto il momento di portare la bella stagione anche sui nostri amatissimi desktop.
Cosa c'è di meglio di bei paesaggi assolati, un fantastico cielo blu, e degli alberi baciati dalla nostra stella più brillante, per far approdare l'estate sulle nostre scrivanie virtuali? Nulla, quindi eccovi servito il set di wallpaper gratuiti che vi proponiamo oggi per la nostra ormai inossidabile rubrica del week-end: There surely be the blue sky.

Come potete anche vedere dalle immagini di anteprima a corredo di questo post, il bellissimo pack di 11 wallpaper per portare l'estate sui nostri desktop che vi proponiamo oggi, contiene sfondi tutti diversi tra loro, ma accomunati da un medesimo stile ed una medesima ambientazione.
L'unica risoluzione disponibile è 1152×864 pixel, non tantissimo, ma abbastanza per avere un set di wallpaper adatto per (quasi) qualunque monitor, senza troppe distorsioni o perdite di qualità.