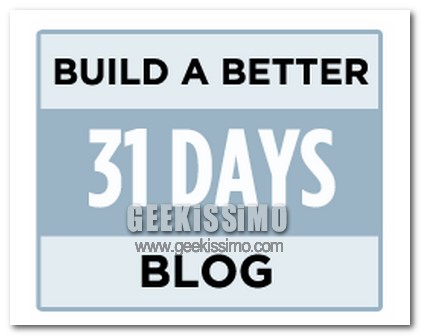 Fare il blogger è un lavoro impegnativo che richiede ottime capacità di comunicazione e il saper relazionare con altri. In giro per la rete esistono decine e decine di guide o blog il cui il tema cardine è "come diventare blogger migliori".
Uno dei blog di questo tipo che seguo e che ritengo il migliore è ProBlogger, dove il grande Darren Rowse quotidianamente sforna consigli per aiutare a scrivere meglio, a guadagnare con il nostro blog, etc. Per questo volevo segnalarvi l'iniziativa "31 Days to Build a Better Blog".
Dal 6 aprile fino al 6 maggio, Darren terrà una specie di corso sul suo blog, con spiegazioni teoriche, "compiti a casa", e quant'altro al fine di migliorare il nostro blog sotto diversi aspetti. Quella di quest'anno è la terza edizione.
Fabio in collaborazione con AlVerde, ha avuto l'ottima idea di creare un gruppo di studio tutto italiano (che attualmente conta già 50 iscritti), in modo da poter scambiare opinioni, confrontare lavori, e perché no conoscere altri blogger.
Per iscriverci dobbiamo innanzitutto visitare ProBlogger e registrarci li, tramite il link fornito nella prima parte dell'articolo; dopo di che confermare la nostra partecipazione in questa discussione. Darren ha già saputo della nostra iniziativa tanto che nell'ultima mail inviata a chi si è già registrato scrive:
PS: I just heard today that a community of 50 Italian bloggers are all joining up together for the very reasons I've written above. Ciao to you!