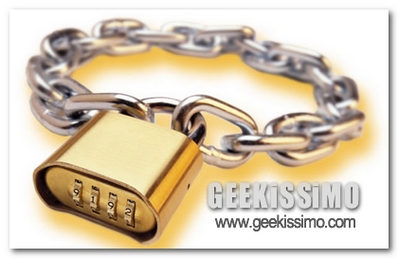 Queste benedette applicazioni online che ci accompagnano per tutta la giornata. Queste applicazioni online che si evolvono a seconda della problematica. Queste applicazioni online, orami indispensabili. Non appunto, a volte capita di voler inviare un preciso e determinato link a diversi utenti.
Vuoi per privacy, vuoi per sicurezza. Quel che voglio presentare oggi si chiama HideLinks, in grado di generare dei link protetti da password. Dopo il sato ulteriori dettagli.
Gli step da seguire sono pochi ma semplici:
Collegarsi alla home e seguire i passi 1 ( Type in the URL to convert ), 2 ( Password-protect access to it ) ed infine 3 ( Shorten Link! ).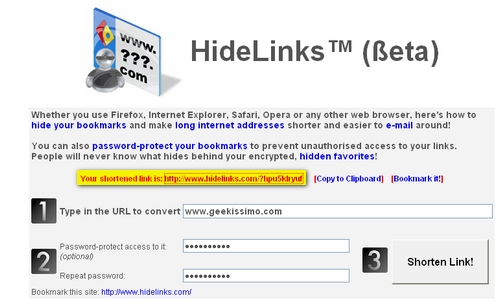 Nella prova effettuata sopra i link che vogliamo criptare è www.geekissimo.com a seguito della relativa password ( g33kissimo ). Verrà generato un link selezionato in giallo.
Il prossimo punto è copiare il link generato in una nuova pagina ed inserire la password precedentemente impostata. Et voilà.
Le conclusioni che si possono trarre sono molteplici. I servizi online sono indispensabili ad ognugno di noi e soprattutto ci permettono di fare cose che in passato non avremmo nemmeno mai pensato. A voi i commenti.