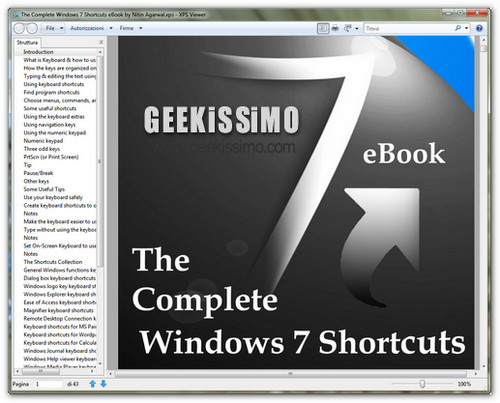 In una blogosfera che non fa altro che parlare dell'
iPad
e di come quest'ultimo potrà sdoganare una volta per tutte gli
e-book
, anche noi vogliamo perorare la causa dei libri elettronici, proponendovi una breve quanto utile lettura, quella di
The Complete Windows 7 Shortcuts
.
Come suggerisce ampiamente il suo nome,
The Complete Windows 7 Shortcuts
è una guida completa (
in lingua inglese, ma abbastanza comprensibile nelle parti salienti
) alle
scorciatoie da tastiera per Windows 7
e tutti gli accessori integrati in quest'ultimo.
Un'occasione veramente ghiotta per approfondire l'argomento
hotkey
e conoscere, a costo zero, dei bei trucchetti per velocizzare il lavoro quotidiano su
Windows 7
.
Tra i principali temi affrontati dal libro, l'utilizzo delle
scorciatoie da tastiera
su Windows, l'organizzazione della tastiera, la
scelta di menu e comandi con la tastiera
, la creazione di collegamenti per l'apertura rapida dei programmi, la
funzione del tasto Windows e le scorciatoie legate a quest'ultimo
, collegamenti utili, accesso facilitato e molto altro ancora.
Questi, invece, i programmi per cui sono specificate tutte le
scorciatoie da tastiera
: Esplora Risorse (comprese le varie finestre di dialogo),
Paint
, WordPad,
Internet Explorer
, Guida in linea, Windows Media Player, lente d'ingrandimento, connessione desktop remoto, calcolatrice, Journal e
Windows Media Center
.
Il libro
The Complete Windows 7 Shortcuts
è scaricabile gratuitamente dal
sito Internet
"
The Windows Club
". È composto da oltre 40 pagine ed è distribuito sia nel formato PDF che nel formato XPS. Il peso del download è pari a circa 2.87MB.
The Complete Windows 7 Shortcuts | Download