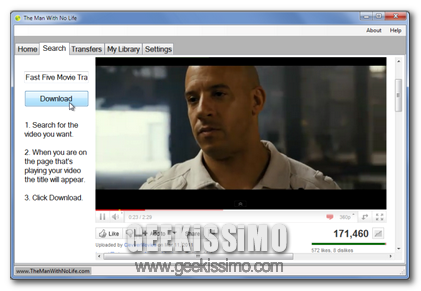 È vero, il nome dell'applicazione in questione lascerebbe presupporre tutt'altro e, di certo, apparentemente, non si presenta come la più felice delle creazioni che uno sviluppatore possa fare ma, cari lettori di Geekissimo, credetemi, The Man With No Life (letteralmente "L'uomo senza vita"), è senz'altro uno tra i tool più validi e, al tempo stesso, semplici adibiti al download ed alla gestione dei video presenti su YouTube (chi l'avrebbe mai detto!).
The Man With No Life, infatti, altro non è che un software gratuito e destinato all'utilizzo esclusivo sugli OS Windows che, presentando una pratica interfaccia utente senza fronzoli, visionabile anche dando un'occhiata all'immagine d'esempio, consente di eseguire ricerche tra i video presenti su YouTube, selezionare quelli d'interesse (eventualmente, piuttosto che ricercare e selezionare un dato video sarà anche possibile immetterne direttamente l'url), visualizzarli, effettuarne il download sul PC in uso e gestire agevolmente tutto quanto scaricato evitando dunque di dover girovagare tra cartelle e sottocartelle alla ricerca dei file d'interesse.
Per quanto concerne il processo di download The Man With No Life consentirà di scaricare i video scelti nei formati FLV, MP4 ed anche MP3 e di settarne la qualità.
Tutti i file multimediali scaricati risulteranno poi facilmente accessibili e riproducibii dall'interfaccia del software direttamente dalla scheda My Library.
The Man With No Life integra anche un apposito pannello di configurazione mediante cui l'utente potrà indicare le cartelle in cui archiviare tutti gli elementi scaricati, impostare la qualità dei file ed agire su diversi altri settaggi.
Download | The Man With No Life