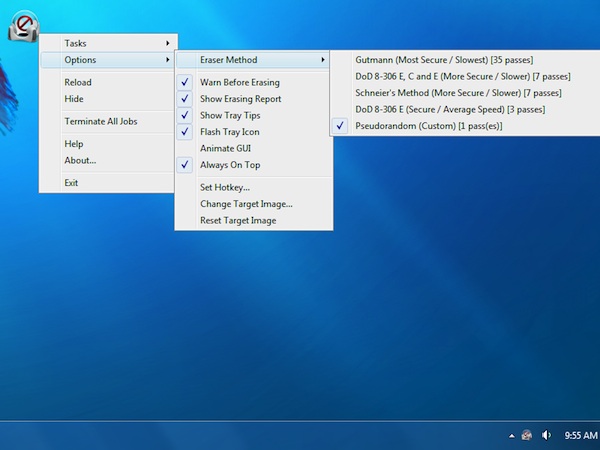 Per cancellare i file archiviati sui sistemi operativi di casa Redmond in maniera definitiva ed irrecuperabile occorre, così come già sottolineato altre volte qui su Geekissimo, ricorrere all'utilizzo di apposite risorse extra onde evitare che sfruttando sistemi appositi possano essere recuperati da eventuali utenti malintenzionati, una pericolo questo al quale si può essere esposti nel caso in cui il computer in uso venga condiviso anche con altri utenti.
Considerando quanto appena affermato l'utilizzo di un software quale EraserDrop può dunque rivelarsi particolarmente utile.
EraserDrop, infatti, è un applicativo totalmente gratuito, utilizzabile senza alcun tipo di problema su tutti i sistemi operativi Windows (sia a 32-bit sia a 64-bit) e di natura portatile (quindi per potersene servire non sarà necessario effettuare alcun processo di installazione) che consente di cancellare specifici file e cartelle in maniera definitiva ed irrecuperabile semplicemente trascinandoli sull'apposita icona che verrà aggiunta al desktop.
L'icona dell'applicativo aggiunta al desktop potrà essere visualizzata o nascosta sfruttando un apposita hotkey e cliccando invece su di essa con il tatsto destro del mouse verrà visualizzato il relativo menu contestuale mediante cui settare tutte le varie opzioni facenti riferimento all'utilizzo di EraserDrop.
Sempre agendo dal menu contestuale sarà inoltre possibile selezionare una tra le 5 tecniche di cancellazione di file e cartelle supportate da EraserDrop, quali Gutmann, DoD 8-306 EC and E, Schneier's Method, DoD 8-306 E and Pseudorandom.
Da notare che ogni volta che saranno cancellati file e cartelle dal sistema servendosi di EraserDrop il software restituirà un apposito report con contente tutte le informazioni relative al processo di cancellazione.
Download | EraserDrop