Se richiamate la voce "Informazioni su Google Chrome" dal menu del vostro Chrome, probabilmente vi accorgerete che il browser si è appena aggiornato alla versione 32 stabile. Si tratta di una release molto interessante che introduce una serie di novità a cui abbiamo già accennato in passato e che – dobbiamo dire – accogliamo con molto piacere.
Quella più evidente per gli utenti di Windows 8/8.1 è la nuova modalità Modern del programma che non presenta più la classica finestra di Chrome in full-screen ma un vero e proprio porting di Chrome OS all'interno della Start Screen del sistema operativo Microsoft, con app launcher e finestre di navigazione separate.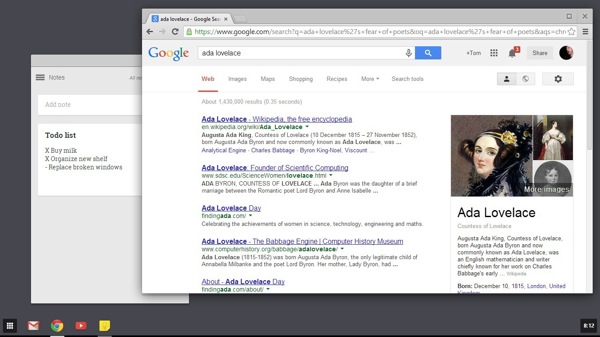 Tornando alla versione standard del browser (quella per tutti gli OS), sono state introdotte delle icone per segnalare le schede che stanno riproducendo contenuti multimediali, quelle in cui viene utilizzata la webcam e quelle che stanno inviando contenuti a un televisore via Chromecast. È stato poi migliorato il sistema antimalware che blocca il download di file e applicazioni ritenuti portatori di software malevolo.
Anche se ancora in versione beta, è stata introdotta anche la dashboard degli utenti supervisionati che permette di controllare le attività online degli utenti che utilizzano Chrome con un account supervisionato[1]. Per i più pignoli, chiudiamo con il changelog completo della versione.
Tab indicators for sound, webcam and casting
A different look for Win8 Metro mode
Automatically blocking malware files
A number of new apps/extension APIs
Lots of under the hood changes for stability and performance
Security Fixes and Rewards

This update includes 11 security fixes. Below, we highlight fixes that were either contributed by external researchers or particularly interesting. Please see the Chromium security page for more information.

[$1000][249502] High CVE–2013–6646: Use-after-free in web workers. Credit to Collin Payne.
[$1000][326854] High CVE–2013–6641: Use-after-free related to forms. Credit to Atte Kettunen of OUSPG.
[$1000][324969] High CVE–2013–6642: Address bar spoofing in Chrome for Android. Credit to lpilorz.
[$5000][321940] High CVE–2013–6643: Unprompted sync with an attacker's Google account. Credit to Joao Lucas Melo Brasio.
[318791] Medium CVE–2013–6645 Use-after-free related to speech input elements. Credit to Khalil Zhani.

As usual, our ongoing internal security work responsible for a wide range of fixes:

[333036] CVE–2013–6644: Various fixes from internal audits, fuzzing and other initiatives.
Note