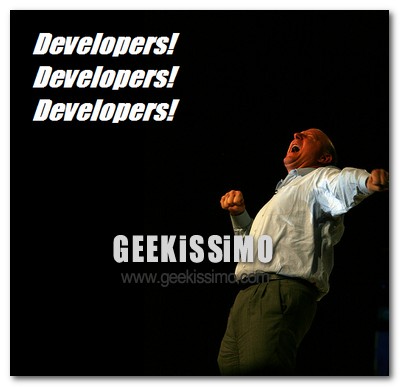 Come ormai nostra bona abitudine, torniamo a dare una mano a tutti coloro che vogliono avventurarsi nel magico mondo del web, stando dalla parte di chi crea contenuti e vuole farlo nel miglior modo possibile.
Lo facciamo alla grande, anzi alla grandissima, grazie ad una delle nostre inimitabili mega-liste: oltre 100 ottimi strumenti per gli sviluppatori web. Ce n'è davvero per ogni gusto ed esigenza, buon divertimento!
Codice
1. Little Boxes
Template CSS
2. Snipplr
Collezione di script JavaScript, HTML, PHP, CSS, Ruby, Objective C
3. AJAX, DHTML and JavaScript Libraries
Oltre 60 librerie Ajax, Javascript e DHTML
4. Javascript Framework
Ajax e DOM per applicazioni web dinamiche
5. AJAX Javascript Solutions for Professional Coding
Oltre 90 utili tecniche AJAX
6. DHTML and AJAX samples
Codici DHTML ed AJAX
7. AJAX Patterns
Wiki per codici AJAX
8. Mozilla Developer Center – AJAX
L'offerta di Mozilla per AJAX
9. CSS Typeset
CSS generator interattivo
10. Open Source Directory
Archivio con le migliori risorse open source
11. .htaccess Creator
Strumento on-line per creare file .htaccess
12. PHP Form
Creare moduli HTML velocemente
13. Best Solutions for Images
30 script per gallerie, slideshow ed altre cose legate alle immagini.
14. Lightbox
Script per immagini sul web
15. Design patterns and tips
101 pattern and e trucchetti per sviluppatori
16. Spanky Corners
Creare CSS e GIF animate per angoli arrotondati
17. Nifty Corners Cube
Angoli arrotondati senza immagini
18. How to redirect a Web page the right way
Redirect usando htaccess, Mod_Rewrite, IIS, ColdFusion, ASP, Java, Perl, Ruby e PHP
19. jQuery
Libreria JavaScript che semplifica la scrittura delle pagine web
Strumenti per il web

20. Pipe Bytes
Inviare e ricevere file tramite browser
21. PHP FTP Synchronizer
Per aggiornare siti da file locali
22. Dummy Text Generator
Genera testo dal numero di paragrafi, parole, byte o liste
23. UTF-8 decoder
Unicode Decoder
24. CSS Tidy
Controlla ed ottimizza CSS (open source)
25. HTML Tidy
Ordina il codice HTML
26. FireFTP
Ottimo client FTP
27. FileZilla
Client e server FTP
28. Dust-Me Selectors
Estensione per Firefox per scovare selettori inutilizzati in stili CSS
29. ColorZilla
Estensione per Firefox che permette di catturare colori da qualsiasi parte dello schermo
30. FireFox IE Tab
Avvia IE all'interno di Firefox
31. Font Sizer
Permette ai visitatori di cambiare la dimensione del testo nei siti web
32. Recaptcha
Per aumentare la sicurezza del proprio sito ed essere sicuri che determinate azioni vengano effettuate da persone
33. Super Screenshot
Crea uno screenshot integrale di qualsiasi pagina web
34. Web Site Thumbnails
Crea thumbnails di qualsiasi sito web
35. Back Orifice
Per controllare un PC da una rete
36. CoPilot
Controllo remoto dei computer, gratis solo nei week-end
Documentazioni
37. Ajax: A New Approach to Web Applications
Completissima introduzione al mondo AJAX
38. Cheat Sheet Round Up
Risorse per Actionscript, Ajax, Apache, ASCII, ASP, C#, CSS, CVS, C++, Django, Firefox, Google, HTML/XHTML, Java, JavaScript, LaTeX, MySQL, Perl, Photoshop, GIMP, PHP, Python, Regular Expressions, Ruby, Unix, Linux, Weblogs, Windows, XML.
39. Quick reference
Risorse per C, C++, CSS, HTML, HTML DOM, Java, JavaScript, MySQL, Perl, PHP, Python e Ruby
40. Got API
Documentazioni riguardo l'API
41. CSS Basics
Le basi del CSS
42. RSS Specifications
Tutto sul mondo RSS
44. RSS Best Design Practices and Icons
Tutto sul mondo RSS, comprese le icone
45. Go To and Learn
Video tutorial flash
46. Optimize Your PHP code
40 trucchetti per ottimizzare il codice PHP
47. Optimizing MYSQL queries
10 trucchetti per l'ottimizzazione MYSQL
48. How to Create a Dynamic BlogRoll
Come creare blogroll dinamici
Test
49. CSS Validation
W3C
50. HTML/XHTML Validation
W3C
51. HTML Validator
Estensione per Firefox per validare codice HTML
52. Link Checker
Controlla i link morti
53. Firebug
Modifica, debug e monitoraggio di CSS, HTML e JavaScript live
54. Gray Bit
Converte pagine in bianco e nero per controllare il contrasto del testo
55. Cross Browser Compatibility Testing
Visualizza l'aspetto del sito in più browser
56. Screen Sizer
Visualizza l'aspetto del sito in più risoluzioni
57. Feed Validator
Controlla la validità dei feed
Windows
58. Windows Unlocker
Suggerisce quale applicazione blocca un file e non ne permette la cancellazione
59. Windows Dependency Walker
Per sapere quali DLL sono necessarie per l'utilizzo dei programmi
60. Pending Moves
Mostra quali file verranno aggiornati al successivo riavvio di Windows
61. Process Explorer
Task manager avanzato
62. Process Monitor
Per monitorare programmi e processi
63. Regulazy
Crea espressioni regolari
64. WinDirStat
Mostra graficamente le dimensioni di file e cartelle
65. wget for Windows
Per ottenere risorse da HTTP ed FTP (HTML, immagini, documenti, javascript, css ecc.)
66. HoverSnap
Per creare screenshot dello schermo ed inviarli tramite FTP
Convertitori
67. Convert HTML to RSS
Genera RSS da qualsiasi pagina web
68. Convert RSS to HTML
Crea widget con i feed RSS
69. Binary to Base64
Per embeddare file in (X)HTML, CSS ed XML
70. HTML To JS/PHP/Perl Converter
Converte HTML in JavaScript, PHP o Perl
71. Text to Voice
Trasforma testo in MP3
72. Free PDF online conversion
Converte vari file (DOC, PUB, RTF, XLS, PPT, HTML, JPG, PNG, BMP, TIFF, WMF, EMF, GIF ecc.), in PDF
73. Web 2 PDF
Crea PDF da qualsiasi pagina web
74. Text to Hex converter
Per scrivere il proprio nome in hex
Grafica
75. YotoPhoto
Motore di ricerca per immagini "libere"
76. Background Image maker
Crea sfondi
77. Iconaholic
Icone gratuite
78. Animated GIFs
Crea GIF animate
79. 216 Color Webmasters Palette
Risorse riguardo i colori
80. ASCII Art
L'arte ASCII
81. Image to ASCII
Converte immagini in ASCII
83. GIMP
Alternativa gratuita ed open source a Photoshop
84. Inkscape
Alternativa gratuita a CorelDraw
85. Create Web 2.0 Badges
Come creare badges
86. Smashup Graphics
Per creare loghi, pulsanti ecc.
88. IconFinder
89. Tabs Generator
Crea schede
Analisi
90. Who is the Owner?
Per sapere chi è il "titolare" di un sito
91. Google Banned Tool
Per scoprire se il proprio sito è stato bannato da Google
92. Crazy Egg
ottimo strumento di analisi per i siti, sia in versione gratuita che a pagamento
93. SiteScan
Per scoprire se il proprio sito è ben configurato per Google Analytics
94. Reinvigorate's Snoop
Analisi dei siti in tempo reale, più flessibile di Google Analytics e gratuito (sia per Mac che Windows)
95. PopURI
Per mostrare ai lettori la popolarità del sito (Google PageRank, Alexa Rank, Technorati, social bookmarks, Bloglines ecc.)
96. Quantcast
Demografia del proprio sito
97. Social Meter
Per analizzare la popolarità di un sito
98. StatCounter
Statistiche ed analisi avanzate
99. Clicky Web Analytics
Analisi avanzate
WordPress
100. How to create a WordPress theme
Come creare un tema per WordPress
101. Highlight Author Comments
Come mettere in evidenza alcuni post su WordPress
102. 100 High Quality and Free WordPress Themes
100 temi per WordPress di altissima qualità
Online Storage
103. Box
Fino a 1GB di storage, limite per file di 10MB
104. Xdrive
Fino a 5GB di storage. Richiesto un account AOL
105. Humyo
Fino a 30 GB (25 GB di file multimediali e 5 GB per altro) di storage. I file vengono cancellati se non si effettua un login per 90 giorni
106. Orbitfiles.com
Fino a 6GB di storage, limite per file di 100 MB
107. GigaSize
Storage illimitato, limite per file di 600 MB, cancellazione dopo 45 giorni
108. DropBoks
Fino a 1GB di storage, limite per file di 50MB.
109. Get Gspace
Estensione per Firefox che permette di sfruttare lo spazio di Gmail.
110. WordPress.com
Per aprirsi un blog ed avere 3 GB di storage a disposizione!
Varie
111. Map-o-net
Mappa di IP
112. Domain Hacks
Aiuta a trovare domini
113. Scratch – programming for kids
Sviluppo web per bambini
114. Internet World Stats
Statistiche globali
115. Feed Journal
Trasforma RSS in veri giornali stampabili
Fonte: Blogwell