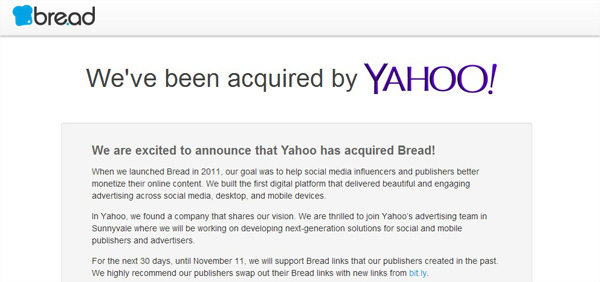 Esistono molti servizi che vi consentono di abbreviare gli URL. Abbiamo già parlato molto degli short link evidenziando anche dei siti web che vi permettono di effettuare il comodo taglio che, però, non sempre potrebbe essere la scelta giusta.


Tra i tanti servizi abbiamo anche Bread ("Bre.ad") che offriva un'analoga funzione, ma in più consentiva alle persone di guadagnare e creare un proprio profilo di "sponsorizzazione". Approdando sulla home page ufficiale non troviamo più le solite opzioni, ma un annuncio del CEO Alan Chan: a partire dall'11 novembre, Bread non sarà più funzionante, Yahoo lo ha acquistato. I link creati in passato con pane saranno attivi ancora per 30 giorni, ma il fondatore invita gli utenti ad utilizzare un altro taglia url e consiglia il noto bit.ly.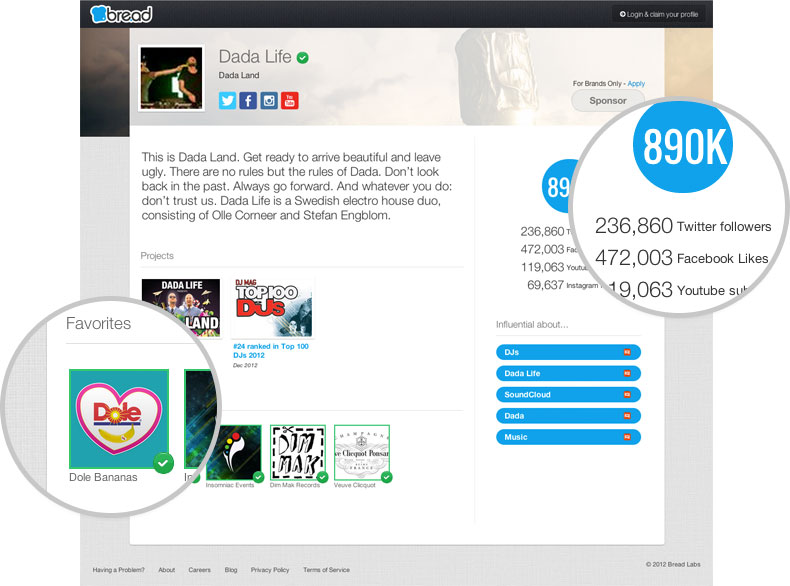 We are excited to announce that Yahoo has acquired Bread!

When we launched Bread in 2011, our goal was to help social media influencers and publishers better monetize their online content. We built the first digital platform that delivered beautiful and engaging advertising across social media, desktop, and mobile devices.

In Yahoo, we found a company that shares our vision. We are thrilled to join Yahoo's advertising team in Sunnyvale where we will be working on developing next-generation solutions for social and mobile publishers and advertisers.

For the next 30 days, until November 11, we will support Bread links that our publishers created in the past. We highly recommend our publishers swap out their Bread links with new links from bit.ly.

Also, as of today, we will be shutting down access to our core products, Bread Social and Bread Oven. We appreciate our partners' understanding as our team makes the exciting transition to Yahoo.

We'd like to extend a special thank you to our investors, our friends, our families, and our partners who supported us unconditionally from the beginning.

Best,

Alan Chan

CEO
Anche Yahoo ha confermato l'acquisto, dichiarando di aver comprato Bre.ad, un servizio che ha saputo spingere gli editori verso un metodo per monetizzare i proprio contenuti. Probabilmente, la strabiliante Marissa Mayer vuole rafforzare i prodotti dell'azienda tramite questo sistema e, di conseguenza, ottenere delle entrate.
Non sappiamo quanto l'azienda abbia speso per bre.ad, ma siamo quasi sicuri che la cifra sia stata come sempre più che soddisfacente. La compravendita ha agevolato le due società, ma ha danneggiato gli utenti che facevano affidamento su tale servizio che, di conseguenza, dovranno necessariamente iniziare a sfruttare un altro metodo e convertire i vecchi link che scadranno l'11 novembre.
Voi conoscevate ed utilizzavate Bre.ad?
[ Via | Tech Crunch ]